Please see the front page for the latest information
All of our services are characterised by a desire to worship God with integrity, with attentiveness to the Word of God and an openness to the Holy Spirit.
There is friendship and fellowship, and refreshments are served after the morning service.
Morning Services – 10:30 am
The 10.30am service incorporates family friendly worship.
Children depart for their own  groups after about 30 minutes for teaching designed appropriate for their age.
Evening Services – 6:30 pm
The 6:30pm evening service is a relaxed service, attracting a smaller but committed section of our church family for praise, prayer and in-depth Bible teaching. There is no service on the second Sunday evening of the month.
Communion Services
There is communion in the service on the first Sunday evening of each month and on the third Sunday morning of each month. In addition communion is held on Maundy Thursday and Easter Sunday (early service).
Prayer Breakfast – 9-10 am
There is a prayer breakfast on the second Sunday morning of each month. It involves breakfast, an informal discussion of the Bible passage for the morning and prayer.  All are welcome!
Address
Girton Baptist Church
103 High Street
Girton
Cambridge CB3 0QQ
United Kingdom
Email: 

Telephone: 07751 748757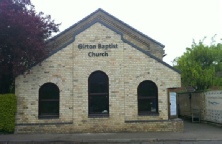 Please park considerately.
We are on a busy road, so we suggest you may want to park either on Manor Farm Road or the Recreation Ground car park.