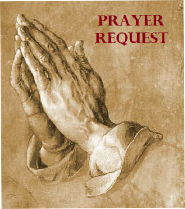 Why Pray?
Why pray, given that God already knows all about you?
It's because God created us to have free will. He wants us to come to Him willingly and not as robotic creations. He gave us a mind to make decisions – and the most important decision is about eternity. It's important to live by His guidance if we want to make the right choices.
In the Bible, you will find kings, prophets, and ordinary people like you and I who avoided disaster by praying to God. One prayed to stopped the sun, one prayed and saved a whole city, one prayed fire down from heaven and one prayed resulting in a gained of fifteen years to his own life. These people prayed intensely to the God who answers prayer.
When you pray, God listens to your cries. As you pray you are affirming the existence of God in your life. You are building your faith as you see God's hand do His mighty work on your behalf just because you asked.
"Ask and it will be given to you; seek and you will find; knock and the door will be opened to you. For everyone who asks receives; he who seeks finds; and to him who knocks, the door will be opened" (Matthew 7:7-8).
But it isn't easy  so we encourage one another through coming together to pray, as a church and in two's and three's.
Why not join a prayer triplet? Contact Christine to find out how 01223 575881.
An Invitation to Pray, every Friday at 7.30pm. Regular prayer for revival in our church, community and nation. Anyone is welcome to join us.
Join us for our Prayer Breakfast at 9:00 am on the 2nd Sunday of each month at the church.