Welcome to Girton Baptist Church
We are streaming our Sunday morning services on Zoom.  Zoom is open from 10.00am to begin the service at 10.30am . If you would like to attend please contact us for the link: 

or ring 07751 548757
The photograph of this cross was in the sky over Cambridge and we have added a Bible verse: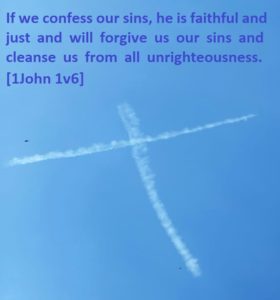 Verse 3 of Charles Wesley's hymn 'And Can It Be' points us to the cross:
He left His Father's throne above—
So free, so infinite His grace—
Emptied Himself of all but love,
And bled for Adam's helpless race:
'Tis mercy all, immense and free,
For, O my God, it found out me!
This prayer, shared by a member of the congregation, reminds us there is forgiveness and healing through faith in Jesus:
Dear God, thank you for the hope, healing and forgiveness you give us through Jesus' death on the cross. There is so much pain in this world but you have shown us over and over again that you can bring good out of suffering and restoration to the broken. Lord, please help us to be healers and hope givers in this broken world, and may there be great healing in the world as people of all nations come to know you as their Saviour. In Jesus' name we pray. Amen
Listen to our recent talks